When it comes to the 1980s, British pop group Culture Club, fronted by their charismatic frontman Boy George, are forever synonymous with that decade. During MTV's heyday, Culture Club topped the UK and US pop charts with hits such as "Do You Really Want to Hurt Me", "Time (Clock of My Heart)", "I'll Tumble 4 Ya", "Karma Chameleon", "Church of the Poison Mind", and "Move Away". Not only were they ubiquitous on radio and MTV in 1983-84, but Culture Club – and especially Boy George – were also everywhere in the media: newspapers, magazines and the TV talk show circuit. This popularity was further heightened by the adoration of screaming fans everywhere the band went. In his 1995 memoir Take it like a manGeorge wrote of this period, "Culture Club was on a treadmill of success…We never questioned our success, we just danced madly in its track."
Almost 40 years later since their formation, Culture Club – George, bassist Mikey Craig and guitarist/keyboardist Roy Hay – continue to perform and record together after on-and-off reunions for decades. On Saturday December 19, the group will give a special concert, Rainbow in the darkat the SSE Arena at Wembley, which will seat 1,000 spectators and be broadcast live worldwide. For Culture Club fans, the event offers respite from the pandemic that has completely crippled the live music industry.
"The show is going to be upbeat and fun," Hay said. Newsweek. "It's for a couple of reasons: to give people something special in these times. The other thing is just for us to come together and play again and enjoy being a band. I think it's okay to be awesome on so many levels to play to live again, to see the guys come out and go around the world. It's amazing.
"What's also needed is to bring the group and the people who work with us together," adds Craig. "We're a very tight-knit unit, from the sound engineer to everyone who works with us. They're all great people. It'll be nice to bring everyone together and find that kinship again."
Naturally, the set list for the upcoming show will draw inspiration from the band's greatest hits as well as recent and even new material. "There will be one of the new songs that we worked on for a movie called We are gathered here today", said Hay. "We are going to debut. We will also shoot a video for this during the performance. So it's going to be exciting."
"George always likes to add something," says Craig, "so it wouldn't surprise me if there were a few new ones. And then we add a few covers here and there to liven it up. But of course all the hits will be there ."
Fittingly, the SSE Arena concert comes on the eve of the 40th anniversary of the founding of Culture Club, whose original and classic lineup consisted of George, Hay, Craig and drummer Jon Moss.
"The early years were a bit of a blur," Hay says. "Everything was so crazy and so exciting. When you first travel the world when you're in a band, you never find that magic in your life. It's just magic moments and being able to do it in a band situation and playing music and experiencing the world at the same time is just a real gift and something very special."
Formed in 1981, Culture Club first forged their musical identity by embracing a variety of musical styles – pop, blue-eyed soul and Caribbean – that contrasted with the synthpop and post-punk sounds of their contemporaries. Already having a unique look from his days as a forward-thinking club kid, George also oversaw the group's image and fashions which were a combination of different influences and symbols.
After signing with Virgin, Culture Club released their debut album, 1982's Kiss to be smart. Their first two singles barely made a dent in the charts. But their third single, the now iconic "Do You Really Want to Hurt Me?", became a huge hit and became the band's breakthrough. Cultural clubs performance of the song in the popular British music show top pops garnered strong reactions from viewers and critics about George's appearance, and the band was on its way to stardom.
"The cliché is people thought he was a girl," Craig says of George, "which you've probably heard 100 times. A lot of people were confused by it all, but they loved the song and they loved George's voice and the way he sang… And so it wasn't just new, there was also some substance to it. It showed when we went to the States, especially because when "Do You Really Want to Hurt Me?" was sent to radio stations in America. A lot of DJs were playing the song and thought George was a girl. Of course, when they saw what the group and found out that George was a guy, it just added up.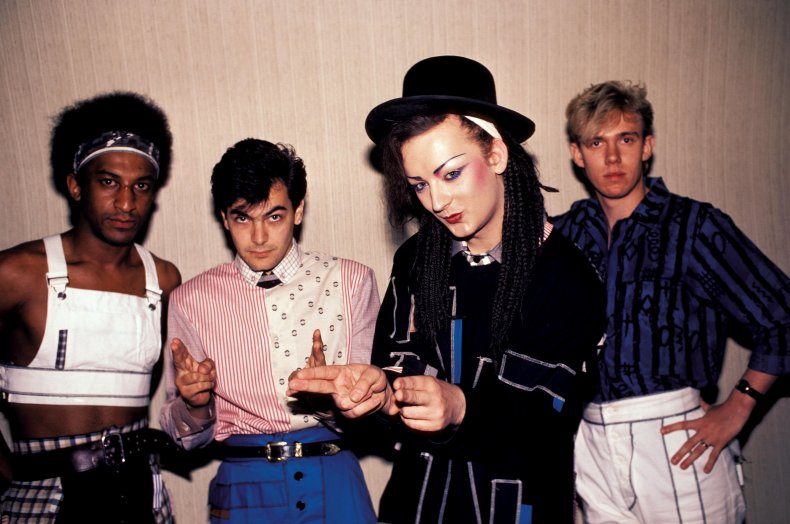 Culture Club came to America to much fanfare as part of the second British invasion alongside Duran Duran, Eurythmics and the Human League. The publicity surrounding the band, particularly about the ever quotable George, was enormous and rabid fan hysteria ensued. Their success culminated with the smash 1983 album Color by numberswhich included Culture Club's first and only US number one hit, "Karma Chameleon".
"It was those times in life where we kind of had this punky energy at the start…and the first album reflected that," Hay says. "We started to develop a bit of songwriters. I think on this second album we had a bit more confidence and we really brought the ideas – both George lyrically and myself lyrically. on the musical level, and Jon and Mikey on the rhythm level. "Karma Chameleon" is a very special record. Afterwards, it created its own legacy. Of course, we have to end every concert with it. Otherwise, people will kill us.
At this point, Culture Club was a pop phenomenon that led to them winning a Grammy for Best New Artist in 1984 (during which George book his famous "drag queen" remark). But the constant touring and press attention over time – not to mention George's drug addiction and legal troubles, and the drama surrounding his then-relationship with Moss – weighed on the band which led to their breakup in the late 1980s.
"Tumultuous is the word," says Craig. "I think the highs were really high and the lows really low. Sometimes it was such a rollercoaster ride that it was too much. Jon and George were a couple, and the speed at which we were going was just too much for relationship to deal with. It happened so fast that you barely had time to process it properly.
"It was a bit difficult," Hay says. "I feared for what really happened at the end, in which [George] was overexposed and it became too much for everyone, and that's why in '86 everything blew up. We all knew it was going to go this way, and then it was too much for everyone, including George."
Over the years, the band has reunited a few times, first in 1998 and then over the past two years, including touring the United States and releasing the Life album in 2018. Midway through the next show at the SSE Arena, Hay, George and Craig collaborated on new music together; Both Hay and Craig had set up their home recording studios. "We send tracks back and forth," Craig says, "like Roy will send something to me, I'll play something on it, I'll send it back to him, and so on. Then he'll send it to George, George going to put something on it. I really imagine it's going to start picking up speed at the start of the new year, and it wouldn't surprise me if a new album started coming out during the year.
Four decades later, Boy George remains a popular celebrity as well as an icon within the LGBTQ community, while Culture Club broke new ground in pop music in terms of their multiculturalism and party of individuality. "I always felt like Culture Club was a one stop shop for anyone who felt different for whatever reason," George said in a interview with the Tampa Bay Weather in 2018.
"It's a big thing we did," Hay said. "We weren't a political band, but we were a huge political statement. We never went out saying, "You have to be like us. That's how we'll get along. We have every conceivable aspect of humanity in this band, and we go from reggae to rock. 'So if we can do it, why can't you?'"
"Roy always says if you had a Culture Club poster on your wall, then we've done our job," says Craig. "We reached out to people who may have been overlooked or who may have been too shy or too shy to come out and say, 'I like this band' or 'I like this type of movement', 'I like this type of clothes'." or whatever. There are other people who are like that locked in their room at the time, and I think Culture Club gave this type of person this opportunity. That's what I love about it: we were able to transform some people's lives. , and let them know they are appreciated too. That's really all.
Culture Club's 'Rainbow in the Dark' show will take place at the SSE Arena, Wembley on December 19. For more information on tickets, click here. (First responders can access the live stream to free by filling out a form).